·
News
·
Old News
·
Newsletter
·
MP3's
·
Lyrics
·
Interviews
·
General
·
Pictures
·
History
·
Members
·
Gigs
·
Reviews
·
Equipment
·
Videos

·
Forums
·
Register
·
Off Topic
·
Song Talk
·
Links
·
Legal
·
Staff
·
Vacancies
·
Site History
·
Contact Us
«News



1/8/01
Hey...sorry for the lack of updates (again) its just i have been on holiday and i dont know where Brad has been...but this could prove to be a big update.
Fristly there is a cool interview with Lawrence Livermore on Green Day Online. To go straight to the interview click here.
This next peice of news has already been confirmed by Mike Dirnt as seen on this site...but this is from this weeks Kerrang! "Green Day will release a greatest hits album on November 5 through Warner Bros. The album will feature all of the band's hit singles, including 'Basket Case', 'Minority', 'Warning' and 'Welcome to Paradise', along with two new tracks. Green Day are expected to release one of the new tracks as a single to coincide with their appearance at the Reading and Leeds festivals on August 24 and 25 respectively."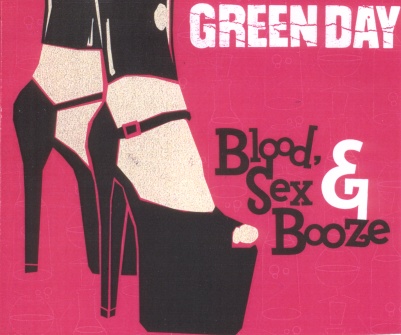 This is the new cover to the new Green Day song "Blood Sex and Booze". To get a bigger image of this click on the image.
Green Day having the time of their lifes
A New Day is Dawning
Green Day; Punks, but children at heart
Warning----Dont call Green Day sell outs....a interview with Mike Dirnt
Interview with Tre Cool on offical web site
Green Days mature punk sound
Green Day up to its usual tricks
Green Day give fans their due
All these are reviews from the recent Green Day gigs....however 2 are interviews with Tre and Mike....worth reading everyone to really get a picture for Green Day live.
Right....we are up for a award on a very cool site. You would have probably heard of it....GDFXS and please go there and vote for us...PLEASE! Also vote for us on the top 25 websites...the more traffic the more interactive the site can get.
Cheers
Jamesy
17/7/01
Ok, this is the first update in a few weeks, we have just been really busy.

Firstly, some cool pics of the Green Day boys are on "Steve Doll Knows Celebrity's". You can access this by going to NewFoundGlory.com. Or if you just want to see the pics of the lads click on these links -
Billie Joe Mike Tre

The B Side to "Brain Stew/Jaded" Do Da Da is featured on Poetry.com under the search for a author "Billie Joe"

Check out this cool "On Tour With Green Day" article with Green Days production manager. Click here for the article

Good news folks, Green Day will be releasing another CD this year. This will be a singles collection. The band are currently taking time off from tourng and are recording some new tracks. These might might their way onto this release or their next album. Mike had this to say about this and other things recently "I look at singles collections and think, that's something people put out when they're 40," said bassist Mike Dirnt, 29. "But we've got like 20 singles already. [the title of the singles set] has a really cool, funny title I'm not allowed to tell right now. We just want to go pound out some kick-you-in-the-balls-type tunes. When Warning came out, I heard it was softer. But now people tell me how much they love that we played acoustic guitars like electrics and that the album's sound was clearer." Dirnt went on to say.... "People sometimes tell me they don't know our music," he said of the band's string of hits. "I tell them, first of all, I don't expect you to. Second of all, you probably do." Dirnt then said this about the bands longetivity..."We're not the flavor of the month anymore," he said. "We're like mint chip. You might have 31 flavors, but you've gotta have the green one with the chocolate."This was said with great pride may I add! Mikes other band "The Frustrators" is currently recording their second album in Billie Joes CatBox Studio.

On Friday the 13th Billie Joe swapped places. He played with the Influents on BASS GUITAR. Here are the photos to prove it-
Bille on Bass Billie in Influents. Jason White and Billie Joe Jason White and Billie Joe again

Nothing Videos has a vote for a "Band in the spotlight" and Green Day is featured. Follow this link and vote for them.

Thats all the news for the moment.
Cheers
Jamesy